MY PRESENTATION
Always between France and Italy, working in the wine sector and narrating food and wine products
I graduated in France in 1989, then moved to Friuli-Venezia Giulia to pursue my professional career in the wine sector. In 2002, on the strength of my language skills, I founded the publishing house Eno-One in Emilia-Romagna, driven by an immense passion for wines, which I share with Giuseppe, my husband.
An undertaking… in every sense of the word!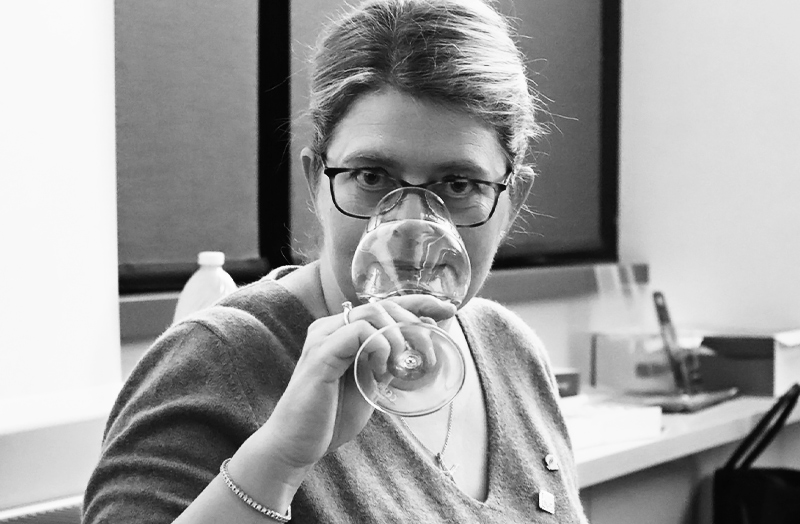 WHAT I DO
My main skills and activities
I edit thematic books, but I do so much more. I am involved in translation and interpreting, and increasingly in promotion and lectures.
I translate specialised technical works for the agri-food sector.
GUIDES AND TASTINGS
I enjoy narrating food and wine products, I teach wine, traditional balsamic vinegar, olive oil and cheese tasting, and I am a specialised tour guide.
I am ofen abroad lending my senses and taste buds in international wine, spirits, and olive oil tasting competitions.
INSTITUTIONAL ACTIVITIES
I am secretary general of the international federation of wine journalists and writers (FIJEV) and a member of the provincial council of a trade association to support and enhance women in their business activities. In addition, I am a member of several associations of wine tasters and of course of Le Donne del Vino.
To give back to the community, I do sworn translations from French into Italian and vice versa. I am one of the reference translators for the Consulate General of France in Milan, and I help people going to or coming from France.
CONTACT US FOR INFORMATION
Contact us now for information or requests about our publications
CONTACT US